A Workers' Compensation Attorney
Who Will Fight for You
Hurt on the Job? Morris Law Can Help
If you are hurt on the job, you are most likely entitled to workers' compensation benefits and can benefit from the legal counsel of an experienced workers' compensation attorney. All too often employers and insurers will try to withhold the benefits you deserve and need to cover the costs of your injuries. At Morris Law, we understand the pain that our injured clients are going through and zealously advocate for their needs in workers' compensation claims.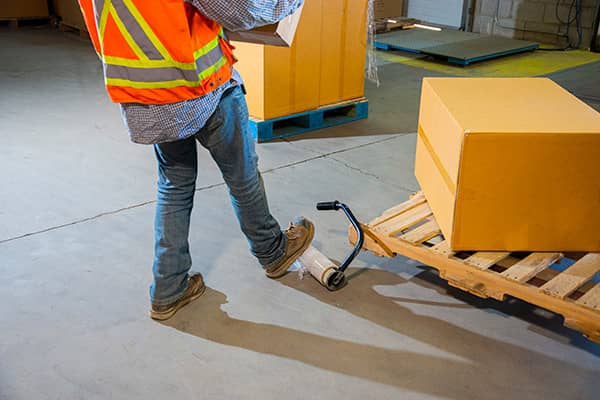 'What Should I Do If I Get Injured at Work?'
The first and most important thing that you should do after getting injured at work is to seek immediate medical treatment for your injuries. This serves multiple purposes with the first being immediate diagnosis and treatment of your medical concerns.
Second, seeking medical treatment right away creates contemporaneous documentation about the scope of your injuries that is incredibly helpful for your workers' compensation attorney in substantiating your claim.
Third, getting medical help right away signals to your employer the seriousness of your injuries, and the longer you wait to see a doctor, the more likely your employer or an insurance company will claim that you are either lying about your injuries or that they are not nearly as serious as you claim.
After being injured in the workplace, write down everything you know about the accident. This should include the date, time, and location of the accident, plus:
The names and titles of your supervisors, managers and co-workers.
Any witnesses to the accident and their contact information.
What you were doing immediately prior to and at the time of the accident.
The environmental conditions of where the accident took place.
The injuries suffered.
The names of the doctors and medical facilities where you received treatment.
What treatment is recommended for your workplace injuries.
Your attorney can aid you in documenting this information.
Finally, you should discuss your claims with your attorney before filing a report with your employer. An experienced workers' compensation attorney will be able to advise you on your legal rights after a workplace accident and ensure that all of the proper documentation is filed for your case.
'Why Do I Need a Workers' Compensation Attorney?'
Your employer, the insurance companies and others might try to convince you that you do not need a workers' compensation attorney to help you with your case, but hiring an experienced lawyer to help you with your claims could mean the difference between getting the compensation you need for your injuries and getting nothing after being hurt on the job. A knowledgeable attorney understands the law for South Carolina workers' compensation and will ensure that you meet all of the requirements for compensation. A lawyer will be able to negotiate with your employer and insurers regarding your claims and argue against any attempts to minimize or eliminate your claims for workers' compensation. An attorney can also protect you against retaliation by your employer for filing a claim and protect your rights throughout the process. 
'What Kinds of Workers' Compensation Benefits Am I Allowed to Receive?'
Workers' compensation benefits include monetary payment for medical expenses, lost wages, disability payments and death benefits. Your medical bills are covered so long as you go to an approved insurance company's healthcare provider for your care, and this includes reimbursement for mileage to and from treatment, referrals to specialists, all authorized medical treatment and care, physical rehabilitation, medical tests, prostheses and more.
Lost wages and disability payments include temporary total disability and temporary partial disability. Temporary total disability gives you 66.6% of your weekly wages for 52 weeks after the accident if you are unable to work, and temporary partial disability supplements your income if you are able to return to work but with doctor's restrictions.
Once you have reached maximum medical improvement, the doctor may have you evaluated for a permanent impairment rating. If you receive an impairment rating over zero, you may also qualify for permanent partial or permanent total disability payments. Permanent partial disability will supplement your wages if you are able to return to work in a limited capacity, whereas permanent total disability provides benefits if your injuries make you unable to return to work permanently.
Filing a Claim With the Help of a Workers' Compensation Attorney
The first step in filing a workers' comp claim is filing a report with your employer. An injured worker has 90 days in South Carolina from the date of the accident to file a report with his or her employer but it is recommended that you do so as quickly as possible. This involves filling out Form 50 for injuries, or in the case of a fatal workplace accident the family of the victim will fill out Form 52. Your employer then has 10 days to file a report with the South Carolina Workers' Compensation Commission. If your employer fails to do so or if you do not believe that you are receiving the benefits you are owed, you can file your own claim for benefits. An injured worker has two years from the date of the accident to file a case for workers' compensation benefits.
It is critically important to file for workers' compensation benefits as soon as possible after an accident and to file everything correctly with your employer and the state. Workers' compensation not only provides monetary benefits so you can pay your medical bills and basic living expenses but also protects you from retaliation by your employer as well as from termination from a physical inability to continue to perform your job.
Injuries Covered Under Workers' Compensation
Examples of injuries that are covered under workers' compensation Include:
Fractured or broken bones
Brain injuries
Back injuries
Wrist injuries
Shoulder pain & injury
Neck pain & injury
Knee problems & injuries
Burns
Heart attack
Loss of gripping ability
Headaches
Contact Our Office Today for Assistance With Your Claim
Were you injured on the job in Greenville? If so, you may have a valid claim and our workers' compensation attorney is here to ensure that you receive the compensation you are owed for your injuries. Call our office at (864) 679-9999 to schedule your free consultation, or submit a contact request form.