Truck Accidents Attorney in Greenville, South Carolina
The consequences of a traffic collision between a commercial truck, semi-truck, or 18-wheeler and a passenger car are often devastating, leaving victims with severe injuries or sometimes death. According to a South Carolina Traffic Collision Fact Book report, there were 38,267 total traffic collisions involving pickup trucks and 5,087 collisions involving semi-trucks statewide in 2019. Truck blind spots, improper loading, failure to inspect, speeding, and driver fatigue are among the most common causes of truck accidents — and they can happen to anyone at any time.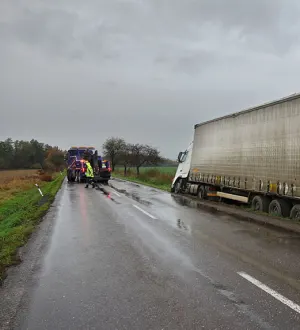 If you or someone you love has been injured in an accident caused by a negligent truck driver, or if you think the wrongful conduct of a truck driver was responsible for a family member's death, you have the right to pursue justice. Morris Law is committed to offering comprehensive guidance, support, and compassionate representation to truck accident victims and their families. As an experienced South Carolina personal injury attorney, I will fight vigorously to protect your rights and help you seek compensation to cover your medical expenses, lost income, and any additional pain and suffering.
Morris Law, proudly serves clients in Greenville and throughout upstate South Carolina, including the communities of Anderson, Pickens, Laurens, and Spartanburg.
Truck Accident Laws in South Carolina
According to South Carolina Code of Laws section 56-5-1230, the driver of a vehicle involved in a traffic accident resulting in injury, death, or property damages shall immediately stop the vehicle at the accident scene, provide relevant information, and render reasonable assistance to any person injured in such accident.
Statute of Limitations
Pursuant to the South Carolina Code of Laws section 15-3-530, any injury claims or civil lawsuits seeking a remedy for an injury, wrongful death, or specific recovery of personal property must be filed within three years from the date of the incident or the victim's death.
Reporting Requirements
Under South Carolina Code of Law section 56-5-1270, any driver involved in a motor vehicle accident that results in an injury, death, or property damage of more than $1,000, shall forward a written report of the accident to the South Carolina Department of Motor Vehicles (DMV) within 15 days after the accident.
Vicarious Liability of Trucking Company
Vicarious liability involves holding a trucking company responsible for an injury or property damage caused by their driver. A trucking company may be held vicariously liable if, at the time of the traffic accident:
The driver was acting within the confines of his or her employment.
The driver was following company orders.
Have You Been Injured In an Accident?
With over six million traffic accidents across the U.S. every year, they can happen randomly to any unsuspecting motorist. Some may result in minor injuries, though the car may still be damaged in some way. The insurance carrier will still need to be informed of the accident so that proper compensation can be arranged.
Of course, other traffic accidents can be more severe and life-threatening. For instance, a truck accident isn't like the simple fender benders or other minor collisions between vehicles. It can happen almost instantly and can be complicated as they affect more than one person. It can also be severe and lead to injury or worse. In these situations, it's important to work with an experienced personal injury attorney to ensure you're fairly compensated for the ensuing medical expenses.
Assessing Liability After an Accident
Depending on the surrounding circumstances or events leading to the truck accident, a number of different people may be held responsible for a traffic collision. These different parties include:
The Truck Driver
The truck driver may be held liable for an accident if the driver was found to be violating a traffic law, speeding, driving fatigued, driving impaired, or was driving with inadequate training.
The Trucking Company
The trucking company that employed the driver may be held liable for a truck accident that occurred due to negligent procedure, such as insufficient safety inspection, setting unrealistic expectations, or hiring an untrained driver.
The Truck Manufacturer
You may be able to hold the parts manufacturer or truck manufacturer responsible if the truck accident occurred due to defective equipment or parts, such as truck defects, mechanical failure, or faulty brakes.
Cargo Loaders
Unfortunately, unsecured or loose cargo can often cause a truck accident. In such situations, the company or individuals who loaded the cargo may be held responsible for their failure to properly secure, arrange, balance, or inspect the cargo.
Maintenance Personnel
Maintenance personnel have a duty to perform routine maintenance and safety checks to inspect things like the engine, brakes, and fluids. If an oversight occurred when performing their designated duties, and that oversight led to an accident, they may be held liable.
Steps to Take When Involved in a Truck Accident
The steps you take or do not take immediately following a truck accident could significantly impact the outcome of your injury claim. When involved in a truck accident in South Carolina, you should take the following steps:
Remain calm and get to safety.
Call 911 to request immediate help and ask for medical assistance if necessary.
Report the truck accident to law enforcement.
Exchange relevant information with the other drivers involved, including the truck driver's name, vehicle registration number, address, phone number, license number, insurance information, and trucking company's name.
Obtain a copy of the police report.
Take photos of the accident scene and obtain any eye-witness statements.
Document all of your medical bills, medical treatments, and doctor's appointments.
Keep a personal account of the event in the days and weeks following the accident that details how it has changed your day-to-day life.
Inform your insurance carrier about the truck accident
Hire an experienced truck accident attorney to help file injury claims or negotiate a fair settlement with the insurance carrier.
It can be very easy to forget crucial information in the hours and days following an accident. You may forget a number of relevant details, misplace reports, or forget to document important events. That's why it's always important to document everything you possibly can, from written notes to pictures and video recordings.
Work With a Knowledgeable
Personal Injury Attorney
The period after a truck accident can be extremely difficult and emotional. Such an incident can affect you physically, financially, and emotionally. No matter how significant your pain or struggle may be, you shouldn't have to face the challenges alone. Retaining a knowledgeable South Carolina personal injury attorney is the first step you can take to protect your rights and pursue the justice you deserve.
At Morris Law, we have devoted our career to handling personal injury cases and protecting the rights of truck accident victims and their loved ones. As your legal counsel, we will:
Work diligently to hold the responsible parties accountable
Review every detail of your case and conduct a comprehensive investigation
Obtain necessary information, required evidence, and documentation
Work tirelessly to prove fault and establish liability
Determine the full magnitude of your injuries and estimate case-value
Help negotiate a fair settlement with any insurance companies involved
If necessary, take additional legal action to help you pursue the best possible outcome
At the end of the day, our top priority is to fight vigorously to protect your rights and represent your best interests at every turn. Morris Law can offer you the comprehensive legal guidance and compassionate representation you need to pursue fair financial compensation that can cover your medical expenses, lost wages, future medical treatment, and any additional pain and suffering. So don't wait. Call Morris Law today to schedule a free case consultation.
Truck Accidents Attorney Serving Greenville, South Carolina
If you or a family member were involved in a truck accident, contact Morris Law today to schedule a free one-on-one consultation. We will fight vigorously on your behalf to protect your rights and provide the strong representation you need to recover damages. I'm proud to serve clients in Greenville and throughout Upstate South Carolina, including the communities of Anderson, Pickens, Laurens, and Spartanburg. Reach out today to get the help you need!