The Do's and Don'ts of Speaking With an Insurance Adjuster
Do not discuss your case with an insurance adjuster before you speak with an attorney. A skilled attorney will handle the communication with the adjuster and help you avoid making mistakes during the claims process. There are certain mistakes people make when speaking with an insurance adjuster that put them at a disadvantage and can jeopardize their claim.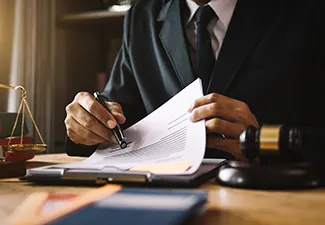 As a personal injury attorney at Morris Law, We provide each client with the personal attention and compassionate counsel they deserve. We have the necessary expertise to fight for fair and full compensation on behalf of we clients in Greenville, South Carolina, and throughout Upstate South Carolina, including the communities of Anderson, Pickens, Laurens, and Spartanburg.
The Insurance Adjuster's Role in the Claims Process
When you file your personal injury claim, the insurance company will send a representative – also known as an insurance adjuster – to assess the damage and handle your claim. The adjuster plays a critical role in the insurance claims process because this is the person who decides what amount of money should be awarded to the claimant.
However, just because an insurance adjuster is assigned to handle your claim does not mean that they are on your side. The adjuster is hired by an insurance company and represents their employer's interests. Denying claims and paying as little as possible is an insurance company's way of maximizing its profits.
What if the Adjuster Requests a Statement?
When you get a call from the insurance adjuster, do not be surprised if the adjuster asks you to provide a recorded statement. Many people do not realize this, but they can – and, frankly, should – refuse to provide recorded statements to the insurance adjuster before speaking with an attorney.
Insurance companies request a statement in an attempt to keep claim payouts as low as possible. There are several reasons why you should refuse to provide a statement to the adjuster:
Admission of fault. Insurance adjusters are trained to get claimants to admit fault for the accident or say something that would jeopardize their claim.
Downplaying the injury. Insurance companies also use recorded statements to question the severity of the claimant's injury. The adjuster will look for any statements to prove that the injuries are not as severe as you claim.
Inconsistencies. It is normal for accident victims to forget or leave out some details when discussing the accident. When those details surface later on, the adjuster could argue that there are inconsistencies in your account of events.
If you agree to provide a statement to the adjuster, there are a couple of tips to keep in mind:
Do not admit guilt or say that you are sorry.
Keep the conversation brief and to the point.
Stick to basic information.
Ask for the conversation not to be recorded.
Do not answer questions if you do not know the answers to them.
Do not sign anything before consulting with an attorney.
Consider hiring a skilled attorney to help you negotiate a settlement with the insurance adjuster and achieve a better outcome.
What Information Will They Ask Us to Provide?
When speaking with the insurance adjuster, you only need to provide basic information, including your full name, phone number, and address. You may also be asked about your employment, such as where you work and what your job duties are. However, you do not need to go into details when discussing your work.
The insurance adjuster may also ask you to provide information about your medical condition and injuries. While it might sound like the adjuster is genuinely concerned about your health, do not be fooled by their tactics. You can politely tell the adjuster that you will provide information about your injuries when the diagnosis is complete.
How Legal Counsel Can Help
At Morris Law, We know how insurance companies operate and what it takes to protect the rights and interests of injured victims after car accidents in South Carolina. We have the necessary experience negotiating fair settlements on behalf of we clients in Greenville, South Carolina. We also represent clients in Pickens, Anderson, Spartanburg, Laurens, and throughout Upstate South Carolina. Contacting us can be your first step toward a favorable outcome in your personal injury case.