Steps to Take After Your Accident
If you get into any kind of motor vehicle accident, the steps you take following the crash are crucial to helping you move past the incident. The moments, days, and weeks following an accident are traumatic and you may feel emotionally and physically strained. Whether it is medical attention or filing a legal claim, you will want to make sure that you are in the best and most capable hands. Knowing what steps to take to get your life back on track is half of the battle.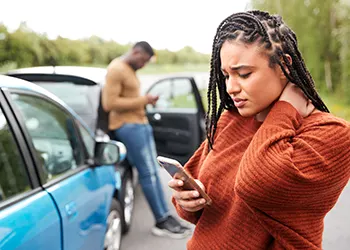 Morris Law services clients in Greenville, South Carolina, as well as throughout Upstate South Carolina, including the communities of Anderson, Pickens, Laurens, and Spartanburg. We provide clients with sound legal advice and representation, always committing to our client's well-being.
Steps to Take After an Accident
After an accident, taking the proper steps will help protect your safety and provide for the necessary elements to file a personal injury claim.
Safety/Medical Care
First and foremost, your safety and medical care is the most important thing to consider. For your own sake, call a doctor or an ambulance and seek medical attention right away. Even if you think you aren't injured or that any injuries you have are minor, you need to let a medical professional assess the situation. Sometimes, symptoms don't appear for days or even weeks at which point, it may be too late to reverse the damages.
In addition to attending to your own well-being, when filing an insurance claim, you will need official documentation of a medical diagnosis. An insurance company can use the lack of immediate urgency in seeking medical care against you if you don't. Some insurance companies, especially in cases of a claim against an at-fault driver, will use the delay as evidence that the injury was not serious enough to warrant medical intervention.
Report the Accident
Where injury or damage has occurred, the accident should be reported to local law enforcement.
If an accident is not investigated by law enforcement, South Carolina Code of Laws Section 56-5-1270 requires that the driver or owner of any vehicle involved in an accident complete and send a Traffic Collision Report form to the South Carolina Department of Motor Vehicles within 15 days if the crash resulted in:
Total property damage of $1,000 or more, or
Bodily injury or death
Failure to meet this requirement will be used as evidence that the vehicle was uninsured at the time of the accident.
Documentation
Documentation of every step and detail is pertinent and should include:
Information about the other driver (such as license number, insurance, and contact details) and their vehicle
Contact information and statements from witnesses
A copy of the police report
Medical records and treatment
Your own account of what occurred
Notify Insurance
Some insurance companies require that they be notified within as few as 2 days. Once you are able, you should call your insurance company.
Hire an Attorney
Hiring an attorney is important to not only begin filing your personal injury claim but having someone walk you through the process to make sure nothing gets missed. An experienced personal injury attorney can help you gather evidence, assess liability, file the necessary paperwork, and negotiate with insurance companies.
Potential Pitfalls
In any personal injury case, especially a motor vehicle accident, there are potential pitfalls. These may include:
Dealing with an uninsured driver.
Accounting for all costs including those that might not be considered such as time away from work.
Making sure medical costs are final. Some medical costs may come along later as injuries get worse or prolonged treatment is necessary.
Receiving a low first settlement offer. Many insurance companies or lawyers will try to lowball you in their first settlement offer. This is because they don't want to pay you the compensation you deserve. Having an attorney can help you avoid this situation.
Failing to file within the statute of limitations. In a personal injury case in South Carolina, you have three years from the date of injury to file your claim.
Experience You Can Trust: Morris Law
Filing a personal injury claim can be intimidating, but getting the damages you deserve is the ultimate goal. Morris Law can help guide you through the process. Our extensive experience in personal injury law increases the chance of you achieving a successful outcome. If you live in Greenville, South Carolina, as well as throughout Upstate South Carolina, including the communities of Anderson, Pickens, Laurens, and Spartanburg, contact us today for a free consultation.