Car, Truck, & Motorcycle Accident Facts
Being involved in an accident on the road in South Carolina can be a scary, painful, and confusing experience. Whether you are involved in a car, truck, or motorcycle accident, it is important that you have an experienced accident attorney handling your case. In the Greenville area, roadway accident victims trust the experience and top-quality legal representation they receive at Morris Law. Call Morris Law or contact us today to schedule a free consultation and learn more about your legal options after a car, truck, or motorcycle accident.
Common Causes and Injuries from Car, Truck, and Motorcycle Accidents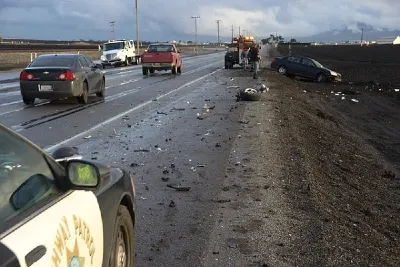 Car, truck, and motorcycle accidents happen for a number of reasons, but the majority of accidents occur in whole or in part due to the negligence or recklessness of another driver on the road. Some of the most common causes of accidents on the roadway around Greenville and throughout the rest of South Carolina include, but are not limited to, the following reasons:
Speeding
Distracted driving
Driving under the influence (DUI)
Failure to obey traffic laws
Driver inattention
Driver fatigue
Failure to check blind spots
Failure to use turn signals
Inclement weather
Bad road conditions
Animals in the roadway, and more.
The injuries caused by car, truck, and motorcycle accidents can be serious and sometimes even permanent or fatal. Motorcycle accidents are known for particularly serious injuries because of the lack of protection the vehicle provides its riders; however, the force and size of trucks and larger cars on the road can also cause significant harm to victims in these accidents. Some of the most common injuries seen in roadway accidents include:
Head injuries
Traumatic brain injuries
Neck injuries
Whiplash
Facial trauma
Broken bones
Nerve damage
Soft tissue damage
Burns
Road rash and lacerations
Amputated limbs
Internal organ damage
Spinal cord injury
Paralysis
Death
Given the serious nature of many of these injuries, it is important that you secure the services of an experienced accident attorney to handle your case and get you the compensation that you deserve.
Compensation for Car, Truck, and Motorcycle Accidents
One of the most common questions our office receives after a client is involved in a car, truck, or motorcycle accident is, "What is the value of my claim?" Compensation for an accident on the roadway is determined by a number of different factors specific to each case. Typically, settlements for motorcycle accidents are higher because the injuries are more severe for motorcycle riders; however, settlements for car and truck accidents can also be significant depending on the seriousness of the injuries incurred.
Compensation for car, truck, and motorcycle accidents combines economic and non-economic damages in the final award. Economic damages include compensation for direct, out-of-pocket costs such as current and future medical bills, lost wages, property damage, and the loss of future income and benefits. Noneconomic damages refer to compensation for more abstract harm such as pain and suffering, emotional distress, loss of enjoyment of life, and the loss of companionship or consortium.
It is important to note that South Carolina is a modified comparative negligence state. Under this rule, if a lawsuit is involved, a jury determines the degree of fault for every person involved in the accident and reduces the overall compensation by that percentage. However, under the modified rules, if you are found more than 50% at fault for the accident, you are barred from recovering any compensation for your injuries.
For example, if you were involved in a car accident with $100,000 in damages and found 10% at fault, the total award would be reduced to $90,000. However, if you were involved in the same accident with $100,000 in damages and found 51% at fault, you would be barred from recovering any compensation for your claim. The modified standard in South Carolina means that it is critical that you have an experienced personal injury attorney by your side to fight any claims of fault that might diminish or completely bar you from recovering compensation for your claims.
What Should You do After an Accident?
After a car, truck, or motorcycle accident, the most important thing is that you seek immediate medical treatment for your injuries, even if you believe they are minor. This establishes contemporaneous documentation about your injuries immediately after the accident and gets you on the road to recovery right away. It may also detect and prevent serious internal injuries that might not present symptoms right away but require immediate medical treatment. If possible, take pictures and videos of the scene of the accident and get the contact information of any potential witnesses to the crash. This can be incredibly helpful later when your attorney is crafting the best possible arguments for your case.
Be sure to call the police, especially if someone is injured or the property damage is severe. They will create an accident report that may also be helpful for your claims. Keep a journal of your recovery and keep all receipts associated with your injuries. These expenses can all be included in the calculation of your overall compensation for the accident. Finally, be sure to call Morris Law to schedule a free appointment to discuss your case with a personal injury attorney at Morris Law today.
How Morris Law Can Help
After an accident, you should be focused on your recovery and not on the complexities of a legal claim. Morris Law takes a personalized and dedicated approach to every one of our accident cases and takes on the burden of managing the case for you. We gather evidence and interview witnesses to build our investigation into the accident. Morris Law handles all communication and negotiation with insurance companies about your case, preventing them from coercing you into making a statement about the crash that might be against your best interests.
Our experienced personal injury attorney understands how much your injuries are worth and will help you pursue the full and fair value of your claim. If the insurers are not willing to offer you a settlement that is fair, we are not afraid to take the case to trial and zealously argue for the compensation you deserve for your injuries. Let our team help you and your family today.
Call or Contact Us Today
If you or a loved one has been injured on the road in a car, truck, or motorcycle accident, the clock is ticking on your claims. Call or contact us at Morris Law, in Greenville today to schedule a free consultation with an experienced personal injury attorney.