What You Should Know if You Are Hit by a Drunk Driver
Drunk driving is among the leading causes of traffic accidents in South Carolina. According to the South Carolina Traffic Collision Fact Book 2019 report, there were 27,599 total non-fatal collisions involving DUIs statewide. Being hit by a drunk driver can result in severe injuries, hospitalization, or even death. If you were involved in a traffic collision caused by a drunk or impaired driver, you are within your rights to hold the responsible party liable and seek fair compensation for your injuries.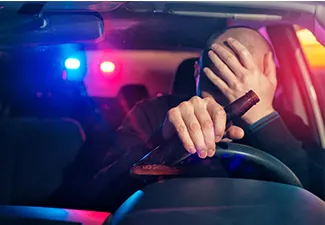 At Morris Law, We have the experience and resources to assist, support, and represent clients in personal injury cases involving drunk driving accidents. As an experienced South Carolina personal injury attorney, We can review and investigate all of the surrounding facts of your case and help you understand your available legal options to seek damages. We will fight compassionately to protect your legal rights and help you pursue fair financial compensation to cover medical expenses, lost income and benefits, future medical treatment, or pain, discomfort, and suffering.
My firm – Morris Law – is proud to represent clients in Greenville, South Carolina, as well as the communities of Anderson, Pickens, Laurens, and Spartanburg, and throughout Upstate South Carolina.
Steps to Take If You Are Hit by a Drunk Driver
The period after being injured in an impaired driving accident can be overwhelming and unsettling. However, what you do — or do not do — could have a significant impact on the outcome of your personal injury claim. If you were hit by a drunk driver, here are the necessary steps to take:
Remain calm and never let your emotions overpower you.
Get to safety and help other accident victims if you can.
Call 911 and seek emergency medical treatment for your injuries, no matter how minor the accident appears.
Report the incident to law enforcement and give a detailed statement.
Collect physical evidence and take mental notes if you suspect intoxication.
Quickly take photos or write down the vehicle's license plate, model, make, and color.
Gather and document the police report, accident scene pictures, and statements and testimonies from witnesses.
Document all of your medical bills, treatments, medical appointments, therapy sessions, and your personal account of the accident.
Inform your insurance provider about the incident.
Hire a knowledgeable attorney to file your personal injury claim or help negotiate a fair settlement with the insurer.
If you delay taking the necessary actions, you may forget vital information or misplace some important evidence and documentation. Act immediately to retain a skilled personal injury attorney to educate you about the South Carolina laws affecting drunk driving accidents, enlighten you about your rights, and help file your injury claim.
Liability in Drunk Driving Accidents
Under South Carolina's negligence per se statute, a driver who causes an accident while under the influence of drugs or alcohol is automatically considered negligent. In order to prove negligence per se in a personal injury case, the plaintiff must show that:
The defendant violated a law, such as driving under the influence or speeding.
The law violated by the defendant was intended to prevent an injury that ended up occurring due to the accident.
The injured person is among the people the law was intended to protect.
Furthermore, the at-fault driver may be held liable for injuries and damages suffered by the accident victim, including:
Medical expenses, including future medical treatment
Lost wages and benefits
Pain and suffering
Other non-economic damages
An experienced personal injury attorney can evaluate every aspect of your case and determine a fair settlement amount to cover your injuries, damages, or loss.
Punitive Damages for Drunk Driving Accident Injuries
In addition, the driver may be liable for punitive damages. The purpose of punitive damages is to serve as an additional punishment to the defendant. In South Carolina, punitive damages are only available in personal injury cases where the defendant's actions were completely reckless or willful. Hence, you may be awarded punitive damages to serve as additional compensation for your injuries and extra punishment for the driver's conduct.
Working With an Experienced Personal Injury Attorney
Getting hurt in an accident involving a drunk driver can be a difficult experience. If you're unlucky to sustain severe injuries, such an incident can affect your physical, mental, and financial health. Nonetheless, you don't have to face the challenges and financial ramifications all by yourself. Act quickly and hire an experienced personal injury attorney to advocate for your legal rights and help you seek the financial justice that you deserve.
At Morris Law, we are dedicated to providing experienced legal guidance, support, and compassionate representation to victims of accidents caused by drunk or impaired drivers. Using our knowledge of the laws addressing liability in auto accident cases involving drunk drivers, we can guide you through the often complex legal proceedings. We can fight vigorously on your side to protect your rights and help recover fair compensation for your injuries, damages, pain and suffering, or loss.
Contact Morris Law – today to schedule a one-on-one case assessment with a knowledgeable drunk driving accident attorney. We can offer you the detailed legal counsel, support, and compassionate representation you need in your personal injury claims. Our firm proudly serves clients in Greenville and throughout Upstate South Carolina, including the communities of Anderson, Pickens, Laurens, and Spartanburg. Call me today to get the help you need.