Common Misconceptions About Car Accident Claims in South Carolina
Statistically, one person is injured in a collision on South Carolina roadways approximately every nine minutes. That means that thousands of people who may have a personal injury claim also may have some misconceptions about their situations.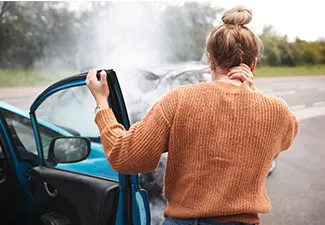 Addressing Common Misconceptions
Part of our responsibility at Morris Law is to help clear up misconceptions so our clients fully understand how personal injury claims work. This is important because our clients must make decisions throughout the process of pursuing a claim. If you have been injured in a car accident in Greenville or anywhere in Upstate South Carolina, we are ready to help you. Let's begin with these five common misconceptions about car accidents claims.
Your own insurance will cover your medical expenses and repairs to your car.
Although your insurance may help cover some expenses, if someone else is at fault for the accident, they (or their insurance) may be responsible for covering them. If another driver owed you a duty of care, failed to exercise that duty, their failure caused your injuries, and you have incurred damages as a result of those injuries, that person was negligent.
South Carolina is an "at-fault" state for auto insurance. The at-fault party that caused the accident is financially responsible for compensation. Typically, victims receive compensation from the negligent driver's bodily injury liability coverage.
If you feel okay after the accident, you don't need medical attention.
You should seek medical attention immediately after an accident, even if you do not think or are not sure you are injured. Adrenaline is an effective mask for pain and injury. You may not feel pain for hours, days, or weeks when you are, in fact, injured. An emergency room physician will know what types of injuries to look for and will provide the examination and service necessary to diagnose them. Failure to begin treatment for some injuries as soon as possible may prohibit you from ever fully recovering from them.
You will also need medical records reflecting a crash-related diagnosis to file a claim for your own medical payment benefits to help cover medical bills in the near term and to file a third-party liability claim with the at-fault party's car insurance. In addition, a delay between the time of the crash and documented medical care gives the insurance company an excuse to deny your claim. The insurer can allege that you were either not injured badly enough to warrant treatment or your injuries were caused by something that occurred within the gap of time.
If the accident is minor, you don't need to report it.
If law enforcement does not appear at the scene and file a report of an accident, you are required to file one within 15 days if the crash resulted in the bodily injury or death of someone involved or if the property damage appears to be in excess of $1,000. It takes little damage to cost $1,000 to repair, so the vast majority of accidents require reporting under South Carolina law.
You were partially at fault for the accident, but that doesn't matter.
Fault always matters. If someone else's percentage of fault exceeds your own, you can still file a personal injury claim. However, South Carolina uses a "modified comparative negligence" rule, so any settlement you receive will be reduced by your percentage of fault.
For example, if you are determined to have been 30% at fault and the other driver was 70% at fault, any recovery you receive would be reduced by 30%. If a jury decides the total damages are $100,000, you would receive $70,000.
Having an attorney won't make a difference when you file a personal injury claim.
Retaining an experienced personal injury attorney to handle your claim does not only usually result in a higher settlement but it can also relieve you of the often extensive work involved in a claim. This can help you avoid error, lower your stress, and allow you to focus on your recovery instead.
Remember that insurance companies will work hard to devalue or deny your claim and hire attorneys to help them. An experienced personal injury attorney has investigated accidents, gathered evidence, documented and valued damages, and negotiated with insurers and their attorneys many times.
Insurance companies change behavior when victims have their personal injury lawyers pursuing their car accident claims. They stand up and take notice.
Turn to Morris Law for Help
At Morris Law, We have the experience, knowledge, and skill to pursue personal injury claims on behalf of the clients We serve in Greenville and throughout Upstate South Carolina. If you have been injured in a car accident and someone else was at fault, We will be your advocate against those who want to deny what you are rightfully owed.